When it comes to finding the right candidate, not all employers favour the traditional CV and cover letter - some prefer to read a supporting statement. The good news is that this doesn't require any fancy formatting, but the fact you can't rely on looks means you have to nail the content. In this post I'll talk you through how to write a supporting statement for a job application so you stand out from the competition.
What is a supporting statement?
A supporting or personal statement is used to outline your suitability for a particular role and is your chance to speak directly to the employer's wants and needs. Although any employer can request one, supporting statements are particularly common in the education and non-profit/charity sectors. One of the biggest employers in the UK, the NHS, requests applicants complete a supporting information section on their online application - this is exactly the same as a supporting statement.
How to write a supporting statement for a job application
Step 1: Identify what the employer wants
Most employers will request you use your statement to evidence your suitability for the advertised role, but others may ask you to explain your motivation for applying on top of this too. Be clear on what the employer wants before writing your statement so you can be sure you're hitting the brief.
You also need to know what competencies the employer is looking for from their ideal candidate. This information can usually be found in the job description (it's often labelled 'Person Specification), but it may appear in the job advert itself. Look for phrases like 'We are looking for someone with…' or 'Our ideal candidate will have….'; whatever follows this is what you need to focus on evidencing.
If the employer has specified a word limit, make sure you stick to it. If they haven't, read my blog post How long should a supporting statement be? to find out how much to write.
Step 2: Decide on a structure
It's entirely up to you how you structure your statement, but there's a structure I find works really well that I recommend to my clients - structure the statement around the competencies being sought by the employer. If the employer outlines around five-eight competencies, this would be perfectly manageable to structure your statement around but any more and I'd recommend grouping them. To do this, group competencies that relate or are similar. For example, you could group IT skills, administration and organisation skills or interpersonal, customer-service and listening skills.
Another point to consider is the order of your statement, and which competencies will be addressed first. It's a good idea to tackle them in terms of their overall importance for the role. Generally speaking, if you've got relevant experience for the position you are applying for, you should really write about this first as it's a big selling factor. If you're unsure about the importance of the competencies review the job advert/person specification to see if the employer has grouped them into 'Essential' and 'Desirable'. You may also find clues to how frequently the employer has referred to the competencies in the job description.
If you've got limited experience, you may find structuring your statement around each competency a bit tricky. If this is the case, structure your statement around your past roles or experiences. For example, one paragraph for your current job and the second for your last job. You can then use other paragraphs to focus your attention more on certain aspects of these roles.
supporting statement services
Get your statement sorted
Transform your supporting statement with my Supporting Statement services. Choose either a Review or full Consultation and get the peace of mind that your supporting statement is tailored, persuasive and makes you stand out.
Sarah has given me knowledge which is absolutely impossible to source online ... Proof that it's worth every penny – I was offered an interview for the first time after sending my new supporting statement to my dream job.
Whitney /
CONSULTATION OPTION
Step 3: Select your evidence
Now you need to identify the all-important evidence. Evidence can be a few different things: specific situations or projects you've worked on or roles you've held which required the competencies being sought. For example, you may refer to a specific project which you can use to evidence your organisation skills, but also your time-management and multi-tasking skills too. The key is to draw on a range of evidence if you can, and focus attention on the most relevant and/or recent examples.
Detailed evidence is what your application will depend on so make sure you dedicate a good amount of time to this. I encourage my clients to brainstorm examples they could refer back to in order to evidence each competency.
Get your application noticed
This tried and tested pack of 7 resources has everything you need to make your supporting statement stand-out. Includes an interview-winning example supporting statement.
Buy now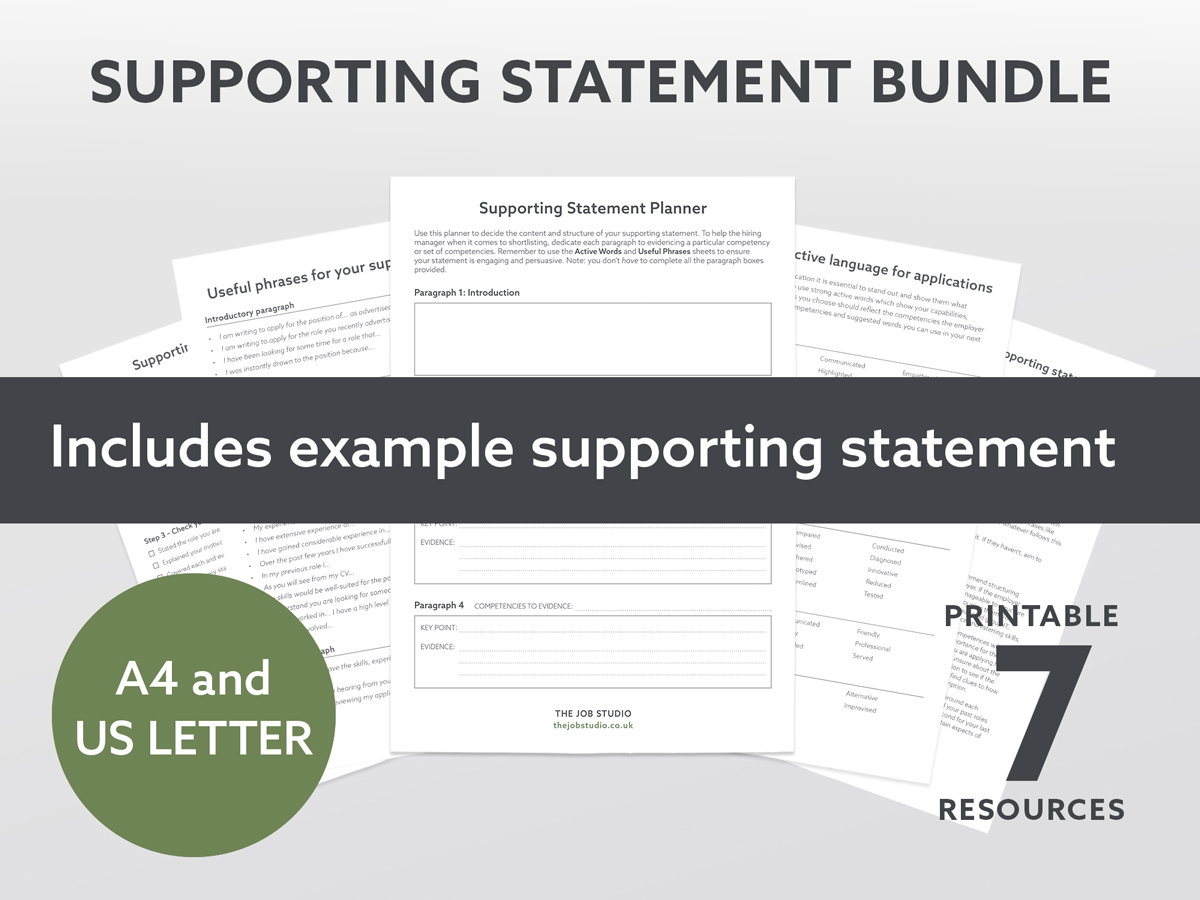 Step 4: Start writing
Once you've decided on your structure and collected evidence it's now time to start writing. To avoid your statement becoming too descriptive and rambling dedicate a paragraph to each competency or group of competencies. This will help your writing to stay focused, clear and persuasive.
Step 5: Write your opening and closing paragraphs
People often struggle with making a start with their supporting statement, and it puts them off writing entirely. This is why I suggest leaving the opening until last. By the time you've written a first draft of the main content you'll know the main points and key evidence you want to cover and this will help when you come to open your statement.
If you can write an opening paragraph which is engaging and grabs the attention of your reader, then great, but don't worry if you can't – it's the main content of your statement that matters most, not the opening line(s). You can always rely on 'I am writing to apply for position of [role title]' which is perfectly adequate and won't lose you any marks.
Unless the employer has explicitly stated not to, outline what interests you about the opportunity (both the role itself and employer). Address this early on if you can, as it makes for a good opening paragraph. I'd suggest picking three reasons why you applied for the opportunity. To do this, it's a good idea to go beyond the job advert and description - employers often want to feel like you have chosen them above other companies. For more advice on writing a stand-out opening read How to start a supporting statement.
When it comes to writing a closing paragraph, keep your message short and sweet. Avoid repeating yourself, but if you want to you can provide a summary of your suitability. You can also thank the employer for their time. It's usually in this paragraph where you might outline your availability for interview (should you be away on a specific date).
Supporting statement writing giving you a headache? I can help! Check out my supporting statement review service.
Share this post