Contents
When it comes to finding the right candidate, not all employers favour the traditional CV and cover letter - some prefer to read a supporting statement (often also called a personal statement). The good news is that this doesn't require any fancy formatting, but the fact you can't rely on looks means you have to nail the content. In this post I'll talk you through how to write a supporting statement for a job application so you stand out from the competition.
Note: as mentioned above, as many people use the terms 'supporting statement' and 'personal statement' interchangeably in this post I have used both of these terms.
What is a supporting statement?
A supporting statement is used to outline your suitability for a particular role and is your chance to speak directly to the employer's wants and needs. Although any employer can request one, supporting statements are particularly common in the education and non-profit/charity sectors. One of the biggest employers in the UK, the NHS, requests applicants complete a supporting information section on their online application - this is exactly the same as a supporting/personal statement.
How to write a supporting statement for a job application
Step 1: Identify what the employer wants
Most employers will ask you to evidence your suitability for the role in the supporting statement, but others may want you to explain your motivation for applying too. Be clear on what the employer wants before writing your statement so you can be sure you're hitting the brief.
You also need to know what competencies the employer is looking for from their ideal candidate. This information is usually found in the job description (it's often labelled 'Person Specification), but it may appear in the job advert itself. Look for phrases like 'We are looking for someone with…' or 'Our ideal candidate will have….'; whatever follows this is what you need to focus on evidencing.
If the employer has set a word limit for the supporting statement, make sure you stick to it. If they haven't, read my blog post How long should a supporting statement be? to find out how much to write.
Step 2: Decide on a structure
It's entirely up to you how to structure your supporting statement, but there's a structure I find works really well that I recommend to clients during my Supporting Statement Review Service - structure it around the competencies listed in the person specification. If the employer lists around five to eight competencies, this would be perfectly manageable to structure your supporting statement around, but any more and I'd recommend grouping them. To do this, group competencies that relate to one-another or are similar. For example, you could group IT skills, administration and organisation skills or interpersonal, customer-service and listening skills.
Another point to consider is the order of your statement, and which competencies will be addressed first. It's a good idea to tackle them in terms of their overall importance for the role. Generally speaking, if you've got relevant experience for the position you're applying for, you should highlight this early on as it's a big selling factor. If you're unsure about the best order to address each competency, review the person specification to see if they are grouped into 'Essential' and 'Desirable'. You may find clues in how frequently the employer has referred to the competencies in the job description too.
If you've got limited experience, you may find structuring your supporting statement around each competency a bit tricky. If this is the case, structure it around your past roles or experiences. For example, one paragraph for your current job and the second for your last job. You can then use other paragraphs to focus your attention more on certain aspects of these roles.
Write an interview-winning supporting statement
This downloadable pack has everything you need to make your supporting statement stand-out. Includes an interview-winning example supporting statement.
Buy now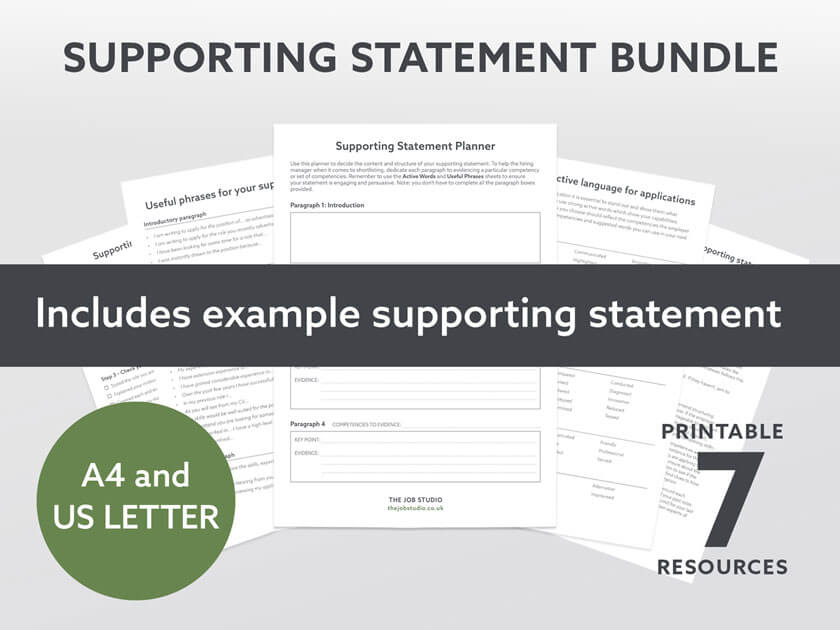 Step 3: Select your evidence
Now you need to identify the all-important evidence. Evidence can be a few different things: specific situations or projects you've worked on, or roles you've held which required the competencies needed for the role. For example, you may refer to a specific project to evidence your organisation skills, but the same project could also be used to evidence your time-management and multi-tasking skills too. The key is to draw on a range of evidence in your personal statement (don't just rely on one role to evidence everything if you can help it), and focus attention on the most relevant and/or recent examples.
Detailed evidence is what your application will depend on so make sure you dedicate a good amount of time to this. I encourage my clients to brainstorm examples they could refer back to in their personal statement in order to evidence each competency in their personal statement.
Step 4: Start writing
Once you've decided on your structure and decided what evidence you're going to draw on, it's time to start writing. To avoid your personal statement becoming too descriptive, dedicate a paragraph to each competency or group of competencies. This will help your writing stay focused, clear and persuasive. Want to see what an excellent supporting statement looks like? I've included one in my Supporting Statement Bundle and lots of other resources to help you write your first draft.
Step 5: Write your opening and closing paragraphs
People often struggle with knowing how to start a supporting statement, and it puts them off writing entirely. This is why I recommend leaving the opening until last. By the time you've written a first draft of the main content you'll know the key points you want to cover and this will help when you come to writing your opening. When it comes to deciding how to end a supporting statement, keep your message short and sweet. Avoid repeating yourself, and instead provide a summary of your suitability and interest in the role.
Most people struggle to write the opening and closing paragraphs of their supporting statement, so below I've included the simple steps to follow to make sure you're covering the key points and making a good first and last impression.
How long should your opening and closing paragraphs be?
Before you get started, you may be wondering how much to write for these paragraphs. I'd suggest no more than a paragraph which is at most 4-5 lines in length. Be mindful of your overall word count when planning your opening and concluding paragraph – each one should be no more than 5% of the overall word count. So if you have a limit of 1000 words, stick as close to 50 words for each paragraph as you can.
How to start a supporting statement
Here's a three-step process for how to start your supporting statement:
1. Introduce yourself
One of the most common ways people start a supporting statement is by explaining why they are writing (i.e. to state the role they are applying for and outline who they are). This usually means mentioning their current role and employer and a brief background about their work history. This doesn't have to be too lengthy – remember you have the rest of the supporting statement to detail your skills, experience and competencies. Including a brief overview at the start of your statement can set it off nicely. This may looking something like:
I am writing to apply for the role of .... I currently work as a ... and have over two years' experience in ....
2. Highlight your key selling points
The next topic to cover at the start of your supporting statement is your selling points. These are the skills, knowledge, experience and/or competencies that make you a suitable candidate for the role. Just like when you write a profile on a CV, you'll need to use your judgment to decide what's worth highlighting at the start of your supporting statement and what can be left until later on. If there is one, use the person specification as a guide. You may want to highlight the competencies you consider to be the most essential for the role.
As you will see I have worked primarily in ... roles which has allowed me to develop excellent skills in X, Y and Z. My current position of ... has strengthened my expertise in .... and developed my knowledge in .....
Struggling with your first draft?
Write an interview-winning supporting statement with this printable pack of resources. Includes an example 900-word supporting statement.
Buy now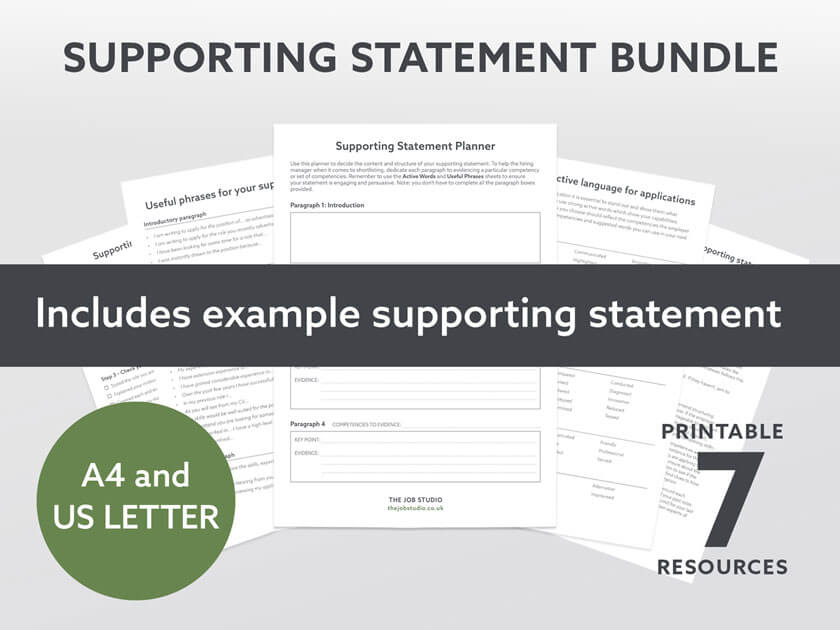 3. Express your interest in the role
After outlining your key selling points at the start of your personal statement, you need to explain why you're applying for the role. Unless the company explicitly asks you to write about this, you should stick to a short paragraph for this section.
Here you need to express your interest in the role or organisation you're applying for. Identify a specific reason (or if you can reasons) why the role appeals to you. I'd suggest picking three reasons why you applied. It's a good idea to go beyond the job advert and description - employers often want to feel like you have chosen them above other companies. This requires research and if you need some pointers on how to do this read How to research an industry in 5 easy steps. Here's an example:
I was instantly drawn to the advertised role due to its focus on .... I have also been looking for a role which would offer more exposure to ... which is a further reason for my interest.
How to start a supporting statement: what to avoid
First impressions count so make sure the opening to your supporting statement doesn't include:
A quote – quotes often come across as gimmicky, so unless you're confident it perfectly fits the point you want to make don't include them.
Long-winded stories – hiring managers don't have long to review applications so make their life easy and avoid long narratives.
Spelling or grammar mistakes – you'd be amazed how many people make these at the start of their supporting statement so make sure you double and triple-check your whole document.
Flowery language – you don't need to use fancy language to impress. Yes, you want to show the employer you can write well but you can do this without shoe-horning words into your statement that don't really fit.
What you don't have – never draw attention to the fact that you don't have what you think the employer is looking for. Why emphasise this when you could just say 'I have experience in...' or 'My varied experience has strengthened my X and Z skills...'
How to end a supporting statement
When you've already spent hours writing your supporting statement, it can be tempting to overlook the importance of the closing paragraph. Lots of people rush this part because they want to get it finished and submitted, but a poor ending can leave the hiring manager with questions about your suitability for the role. Here are three points to cover at the end of your supporting statement:
1. Re-emphasise your suitability for the role
This doesn't need to be a long-winded account of how you match what the hiring manager is looking for. Instead, you just need to include a simple sentence stating that you have the blend of competencies the employer is looking for. It's as simple as that – and what's even better is you can re-use this sentence from one supporting statement to the next, adapting it slightly to fit the particular role or organisation you're applying for.
2. Highlight your key selling points
The main purpose of a supporting statement is to show your suitability for a role, so when it comes to the ending, you want to re-emphasise this. With limited words, you need to write a concise summary of your key selling points and package them nicely into a sentence or two.
What these selling points are is up to you to decide. If you've already written your supporting statement, you should know what these are but to help with this, put yourself in the hiring manager's shoes and consider what they're looking for and which boxes you tick as a candidate. These selling points are probably more focused on relevant experience/knowledge than individual skills, although if the role requires a specific skill and this is something you excel at, of course you can focus in on this.
You could use these selling points to emphasise a few different things - the fact you can hit the ground running in the role, make an impact or be an asset to the team. All of these are good phrases but the more tailored you can make these sentences the better. For example, you could mention the organisation's name or even better - the specific project and/or department you'd be working in. Making it as tailored as possible is the key here.
Showcase your skills and experience
This printable pack of resources has everything you need to make your supporting statement stand-out.
Buy now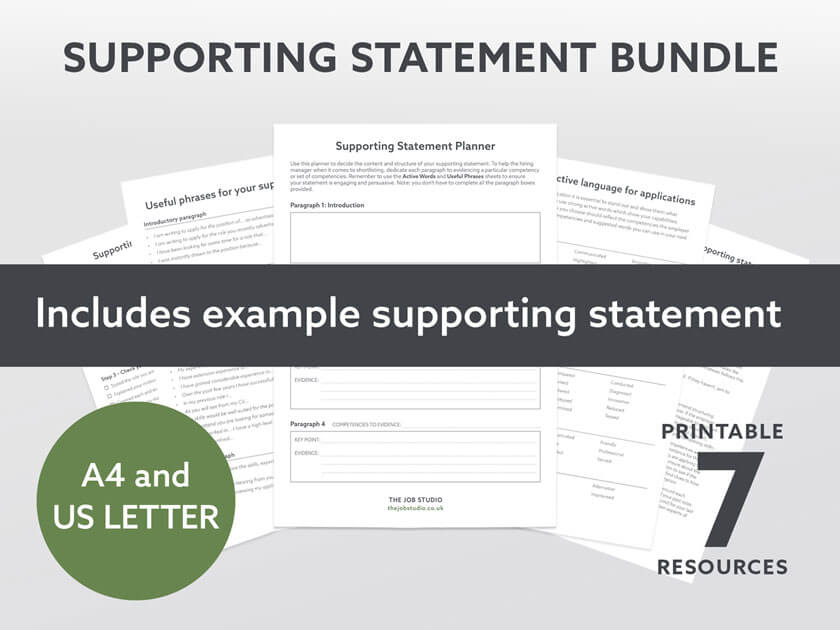 3. Reiterate your interest in the role
When planning how to end a supporting statement, most job seekers overlook this key point. Ideally, you should have outlined what attracted you to the role at the start of your supporting statement however now is the time to reiterate that interest. Why is this important? Because whilst hiring managers are primarily interested in finding people with the necessary skills, experience and knowledge for the position, they also want to find people who are enthusiastic and excited by the prospect of working in that specific role and for that particular company.
When covering this point, your key consideration should be the language you use. This is how you are going to convey your interest and enthusiasm for the role and company. You want to avoid flowery language and be direct about what interests and/or excites you about the prospect of working in that role and for that employer. Here are a few example words/phrases:
I am particularly excited by...
I would welcome the opportunity to...
I look forward to the prospect of…
Example of how to end a supporting statement
You don't need to overthink this – you should keep your ending simple and use it to reiterate your suitability for the role:
In summary, I feel the above demonstrates that my professional skills, knowledge, and personal attributes make me a strong candidate for the role of …. at …... My blend of administrative experience, … and …. means I have the knowledge, skills and passion for a role that is the logical next step in my career.
Here's another example:
I am thrilled at the possibility of being involved in .... and would love the opportunity to meet with you and discuss the value I can bring to your .... project. I look forward to hearing from you.
What to avoid at the end of a supporting statement
The last thing you want to do in your closing paragraph is to raise any suspicions about your suitability for the role or cast doubt on how serious you are about this application. There are various ways this can come across, but here are a few common mistakes I see:
Highlighting your lack of experience - candidates do it all the time, and although they may think they're being 'honest' there is no need to raise this.
Using weak or passive language - phrases like 'I think my skills...' which will only make you come across as lacking in confidence. Instead, change this to 'My skills...'
Waffling – you want to keep your ending concise, and to the point.
Optional extras
If you would like, you can add any of the following to the concluding paragraph of your supporting statement:
Your availability for a potential interview – if you're going to be unavailable when the interviews are taking place you may want to highlight this by simply adding to the end of your statement: "I am on holiday between the dates of [add date range] and will be unable to attend an interview during this time." If you are going to be unavailable for a face-to-face interview, but would be happy to be interviewed remotely, you can also state this.
A disability – you have no legal requirements to disclose a disability to an employer, however you may wish to mention this in your application. For example "Please note, I ….."
So there you have it - everything you need to know about how to write a supporting statement for a job application. If you want to be sure the supporting statement you're about to submit is showcasing your relevant skills and experience, take a look at my Supporting Statement Review Service.
This post was originally published on December 1 2019, but was updated in December 2021 with additional content
Share this post