When it comes to job applications there's one thing a lot of people seem to struggle with - how to write a personal profile on a CV. In this post I'll show you how to write one that gets you noticed.
What is a personal profile on a CV?
A personal profile is a brief overview of who you are and what skills, experience and abilities you've got to offer. It usually takes the form of a 3 to 4-line paragraph and sits under your name and contact details.
Do you need one?
Personal profiles are entirely optional; some employers like them, others don't. If you're confident you have what an employer is looking for summarising this in a personal profile can be a great way to get your CV noticed, but it's not compulsory. Not everyone will have enough experience to make a profile worthwhile, so think carefully before deciding on whether to include one on your CV. If you're confident you have skills or experience worth showcasing then let's move on to how to write a personal profile for a CV.
How to write a personal profile on a CV
Step 1: Identify what the employer wants
Before writing a personal profile it's essential you know what the employer is looking for. This can usually be found in the job advert, or person specification of the job description. If you're applying speculatively you will have to use your judgment to decide what the company will want to see on your CV. Job profiles can help you to identify the right skills to highlight if you're unsure.
Step 2: Make connections between the employer's wants and what you have to offer
Before you start writing any application, you have to be clear on how you match what the employer is looking for. It's not enough to say 'I have great communication and organisation skills' – you need to provide evidence of desired competencies in your application.
The same goes for when you write a personal profile on a CV. It needs to be concise, so pick a small number of what you consider to be the most important competencies for the role. Three is a good number – it's both persuasive and a manageable number of points to summarise in 3-4 lines. If the employer has divided what they're looking for into 'essential' and 'desirable' in the job advert/description this can help steer you on what skills and competencies to showcase. These may include:
Your level of experience e.g. you could highlight the number of years' experience you have in that industry/role
Qualifications e.g. you could draw attention to academic or professional qualifications required for the position
Skills e.g. you may want to highlight how your skillset matches what the employer is looking for
Step 3: Select your evidence
You then need to decide how to evidence the competencies you want to show off in your personal profile. Here you need to think broadly about evidencing each competency, particularly when it comes to skills. For example, your profile shouldn't be used to summarise a particular example when you demonstrated strong teamwork skills - instead, your evidence might be the fact you've worked in diverse teams of varying sizes in your current role.
Step 4: Start writing
The first question you need to address when you write a personal profile on a CV is:
Who are you?
Think carefully about how you want to describe yourself. A good opening gets straight to the point and will outline who you are e.g. 'Experienced Marketer… You can also use the profile to detail your qualifications which are relevant for the role e.g. 'Qualified Accountant…'
If you've recently finished university, you could start your personal profile with 'Recent English graduate...' or 'Recent graduate from the University of…' You could even mention your degree classification if you think this will stand out to the employer, e.g. 'First class graduate from...'
It's best to avoid using generic adjectives in a personal profile on a CV such as 'Hardworking' or 'Dedicated'– it won't add anything to your profile. Qualities and personality characteristics are often difficult to evidence on a CV, let alone in a personal profile so stick to the facts.
What relevant skills and experience do you have?
We now return to the three competencies you identified earlier. You need to tie these together – a process many people find tricky. Take the time to consider what words will jump out to an employer (beyond the competencies you're evidencing). Think job roles, employers, projects and if you can, numbers to quantify the impact you had.
If applying speculatively - what are you looking for?
If you're applying speculatively to a company, you can end your profile with a statement outlining what you're looking for e.g. 'Currently seeking entry-level role in a small marketing agency.' You could highlight a particular industry or role type.
Example personal profiles on a CV
I know how hard it can be to write a personal profile on a CV without seeing an example, so here are some examples:
Marketing Manager with over 4 years' experience working in digital agencies. Strong skills in X, Y and Z developed through …
Recent English graduate with excellent interpersonal and organisational skills developed through internships with Penguin, Harper-Collins and Hachette. Currently seeking entry-level position in the publishing industry.
Primary school teacher with over 7 years' experience specialising in Science and Foreign Languages. Fluent in French and Spanish and seeking a new role in the South East.
Transform your CV
Get your job hunt on track with a complete CV refresh from a qualified Career Coach.
Get started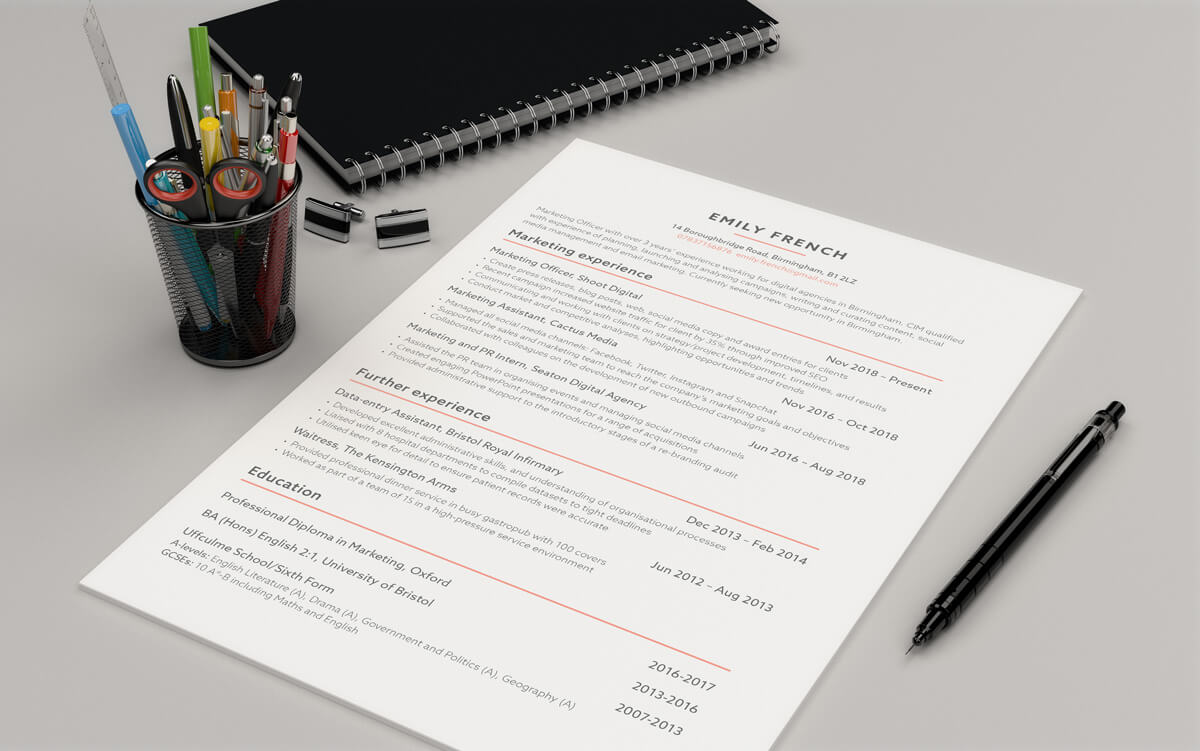 Share this post