When it comes to writing a supporting statement, length matters. Too short and it won't evidence all the competencies needed for the role, too long and you'll come across as unfocused. If you're wondering 'How long should a supporting statement be?' you've come to the right place. In this post I'll answer that very question and explain how to trim your statement down if it's too long.
Obey the word limit
If you're wondering how long should a supporting statement be, chances are the employer hasn't provided a word or character limit. But if they have, make sure you obey it. Some employers are particularly strict about this and will penalise applications that exceed the word limit. It's a good idea to write within 10% of the maximum word length, and ideally maximise it so you're hitting all the competencies.
No word limit? Aim for 2 pages
If there's no word limit, aim to write no more than two sides of A4 using font size 11. Not many hiring managers have time to read a supporting statement much longer than this (remember, they've probably got tens, if not hundreds to read!). They'll also lose interest pretty quickly, so do them a favour and keep it a reasonable length.
Evidencing all the competencies in a concise statement on two sides of A4 will take time and effort, but it can be done. Read my post How to write a supporting statement for a job application to see what to include and how to structure your statement.
Really struggling with two pages? It's not the end of the world if you have to go over on to a third page, but you should be confident you've tried your best to cut it down (see my tips below) and that everything included is relevant.
Write an interview-winning statement
This tried and tested pack of 7 resources has everything you need to make your supporting statement stand-out. Includes an interview-winning example supporting statement.
Buy now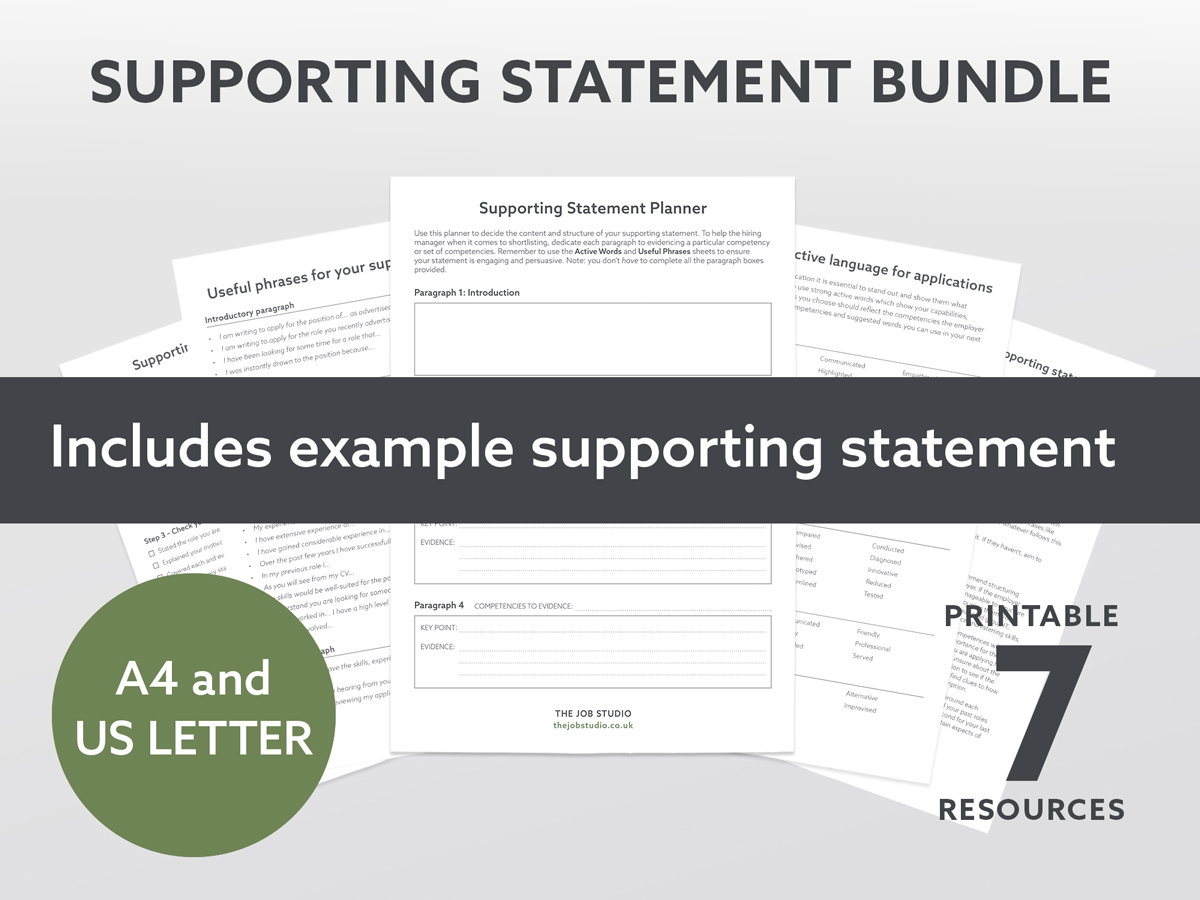 How to reduce the length of your supporting statement
When it comes to writing a supporting statement, most people over-write, rather than under-write. When writing a supporting statement, it can be really tempting to throw everything on the page, and tell the employer everything you've ever done, but this isn't a good strategy. Remember – the supporting statement is to evidence your suitability, pique the employer's interest and persuade them to invite you to interview. Follow these five tips to cut down your statement:
Be selective – focus on evidencing the competencies the employer is looking for. Remove any sentences that stray off topic or don't support you in evidencing the competencies.
Use headings – these will not only help the hiring manager review your application, they will also help you identify which areas need cutting down and which could do with more attention.
Make sure it's in proportion – don't feel compelled to write the same amount under competencies that can be evidenced easily. For example, if an employer wants you to evidence experience of working in a healthcare setting this will require greater detail than evidencing the competency of being 'First Aid trained'.
Evidence multiple competencies using the same example – if you're really struggling, you can evidence multiple competencies using the same example/role. For example, teamwork and communication skills are two common competencies that can be addressed easily together.
Remove long, detailed examples – don't fall into the trap of including wordy examples, or worse still anecdotes that can't be evidenced. These rarely add any value and usually fit better in an interview environment.
So there you have it - a simple answer to the question 'How long should a supporting statement be?'
Are you struggling to write a supporting statement for a job application? I've helped 100s of people get interviews with my supporting statement service. Find out more.
Share this post