Contents
If you're reading this post, chances are you've got a bit of time before your next interview, or maybe your interview is tomorrow and you're wondering how to fit all that interview prep in. The bad news is, there's no magic number of hours you need to spend preparing to guarantee interview success. Some people only need a few hours, while others need days or even weeks to hone their interview technique. But what should you be aiming for?
How much time to spend preparing for an interview: breaking it down
To determine just how much time to spend preparing for an interview you need to break down the essential components of any kind of interview preparation. Below I've outlined what your key tasks are when preparing and how long each one will take:
Step 1: Research the company and industry
Hopefully you've put the leg work in when you originally applied for the role, but now it's time to step it up a notch. If you need some pointers take a look at How to research any industry in 5 easy steps.
Step 2: Anticipate questions
This is by far the stage that will take the longest amount of time. You need to think of examples to draw on from your previous experience and consider what you'll respond with. This will vary depending on the level of role, how much you want the role and how easy you find it to come up with answers. To help get you started, check out my 100+ job interview questions.
Step 3: The Final Bits
Your final task is to come up with questions to ask your interviewer, decide what to wear on the day (make sure you iron your outfit!) and if it's an in-person interview, how you are going to get there. What more suggestions for what to take? Read my other post What to take to an interview.
The longer you've got to prepare, the better. Let me explain below…
Preparation leads to confidence
The first thing to accept is the more time you put into preparing for your interview, the more confident you'll feel on the day. It makes sense – the earlier you start preparing, the more time you can spend anticipating questions, thinking of examples for competency questions, researching the company/sector and coming up with impressive questions to ask your interviewers.
Putting the time in during this preparation phase will give you a sense of control which will ultimately lead to confidence. Confidence that you've done everything you can to prepare and confidence that when you leave that interview, you gave it 100%. There's nothing worse than not getting a job knowing you could have put more effort in.
Get set for interview success
Prepare for interview success with this 7-item resource pack. It includes an interview answer workbook, list of 50 common interview questions, a competency matching grid and more!
Buy now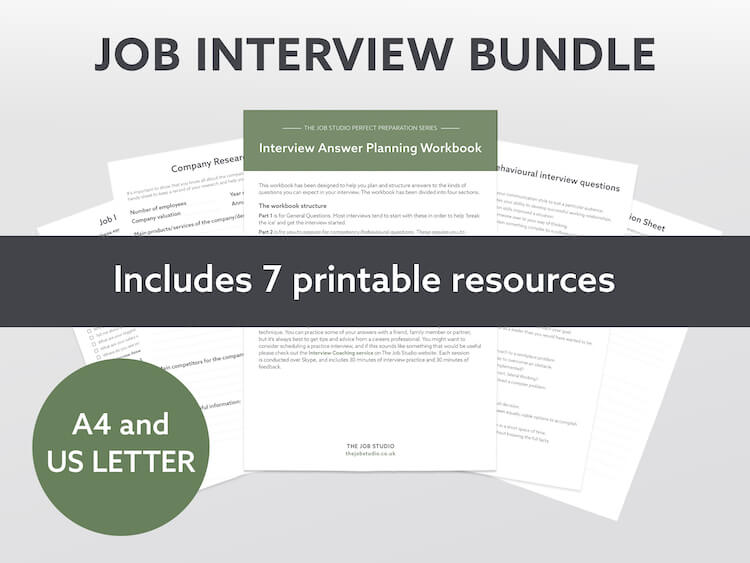 If you feel confident, you'll feel more relaxed
Don't forget the importance of confidence on your nerves. I'm not saying confidence will erase your nerves completely, but they will keep them under control. Whether you like it or not, interviewers will make a judgment about you from the moment your interview starts, and it's important to convey confidence and not to let your nerves get in the way.
Top 3 tips for preparing for a job interview at the last minute
If you've not been given much notice or just haven't had time to prepare as much as you would have liked, here are my three must-dos below:
Have a very clear idea how you could answer the following questions: Why are you applying for that specific role? Why that employer? What skills and experience do you have that make you an ideal candidate? These questions are likely to be asked in one form or another, so it's important you know what you're going to say.
Re-visit the job description and/or person specification. Refresh your memory on what the company is looking for and what you will be doing in the role.
Have some key examples from your previous experience which evidence how you have the skills and competencies the organisation is looking for. Focus on identifying examples which show these and the positive contribution you made in your current and previous roles.
While it's probably obvious to say that you need to at least do some preparation, there is such a thing as doing too much. If you've done everything mentioned in this post then don't forget to switch off, relax and focus on being positive!
Share this post