Whether you're looking for a permanent role or temporary stop-gap job, recruitment agencies can be a useful part of your job search. In this post I'll share my top tips on how to work with a recruitment agency to find a job.
What is a recruitment agency?
Recruitment agencies work with employers with vacancies to fill, by putting forward candidates they think are suitable for the role. An employer may use an agency if they have a role to fill at short notice or lack resources to hire candidates themselves.
If a candidate that an agency has put forward gets offered the position, the agency is paid by the employer. Employers that work with recruitment agencies come from all industries and include both large organisations and smaller, medium-sized ones too.
How does a recruitment agency work?
Individual recruitment agencies differ in their approach, but many will operate like this: an agency is sent a job description by an organisation that has a position they want to fill. The agency draws up a shortlist of applicants for the role using the bank of CVs they hold on their database. The recruiting organisation then views these shortlisted CVs and selects their preferred candidate(s) to interview. The agency coordinates an interview of the selected candidate(s) by the organisation.
Types of recruitment agencies
There are two types of recruitment agencies: multi-discipline agencies, which handle vacancies across a wide range of sectors, and specialist agencies, recruiting only in certain fields. Both types of agencies can deal with permanent and temporary positions. Knowing which kind you're working with is a critical step when learning how to use a recruitment agency to find a job.
Do I have to pay to use them?
Recruitment agencies are free to use in the UK. The only agencies that charge are those that hire highly experienced, specialised professionals.
Level-up your applications
Write an interview-worthy application using the printable Job Application Bundle. Includes over 160 active words and useful phrases, competency matching grid and checklist PLUS much more.
Shop now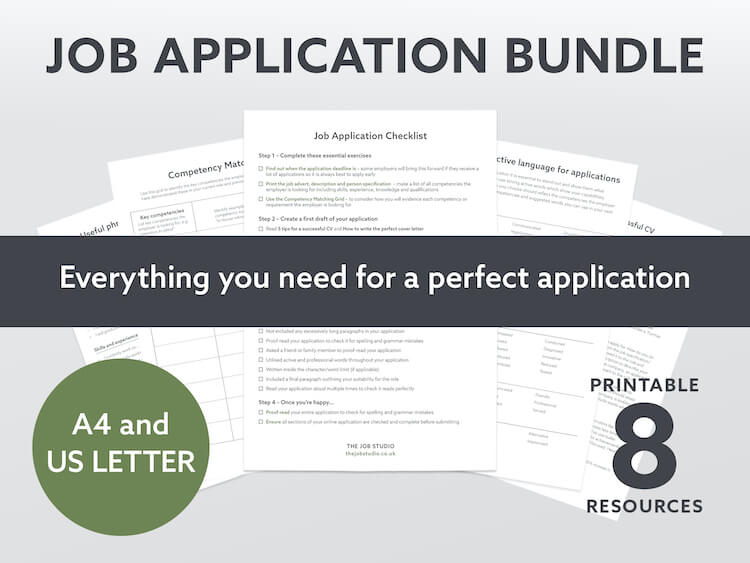 Why use a recruitment agency
Now you know how to work with a recruitment agency you may be wondering what the benefits are to using one as a job seeker. Here are the main benefits of using a recruitment agency:
Generally free to use
Offer a range of opportunities to suit your needs and circumstances
Provide in-depth knowledge and advice related to specific employers and job sectors
Give you access to roles that might not be advertised elsewhere
You may enter the recruitment process at a much later stage compared to other vacancies advertised elsewhere which might involve multiple stages that take longer to work through
Often less competition due to the smaller pool of CVs recruiters work with
How to find a recruitment agency
You can search UK recruitment agencies based on location and job sector by visiting The Recruitment and Employment Confederation website.
You can register with as many recruitment agencies as you like, but the more you sign up with the more relationships you'll have to manage. When advising my clients how to use a recruitment agency I recommend selecting a handful initially as you can then keep track of where your CV is being sent.
How to work with a recruitment agency: top tips
Research and select your agency with consideration: don't be tempted to use too many at once – careful selection will mean your time is used most effectively.
Keep in touch with them regularly: the agency environment can be fast-paced and if you don't keep in contact you may be overlooked. Having said that, do be careful not to be too demanding. Phoning first thing in the morning can be a good approach.
Create a good impression and act professionally – the agency will be encouraged to represent and promote you to employers if they like you and are impressed with the way you conduct yourself. Recruiters want to put candidates forward for jobs that they like and think will do well. If you can get on with the recruiter and have rapport with them you're halfway there.
Keep a record of your applications and contact with each agency: you don't want more than one agency to put you forward for the same position!
Tailor your applications: you can learn all the top tips for how to use a recruitment agency, but if you're not highlighting the relevant skills and competencies in your applications, you're unlikely to get very far! Need help with your next application? I can help!
Final tip: don't rely on recruitment agencies
Recruitment agencies are a tool to help you find a job but don't put all your eggs in one basket. Successful job-hunters know how to work with recruitment agencies but will keep their options open. There are lots of other ways you can find your next role, including speculative approaches, internships and applying directly for jobs companies advertise themselves.
Now you know how to work with recruitment agencies, you may want to freshen up your CV. Head over to my other post for some pointers on how to get started: 5 tips on how to make a successful CV.
Share this post