When it comes to writing a supporting statement, most people find the opening the hardest part to write. In this post I'll give you a simple process for how to start a supporting statement.
3 steps for how to start a supporting statement
1. Introduce yourself
One of the most common ways people start a supporting statement is by explaining why they are writing (i.e. to state the role they are applying for and outline who they are). This usually means mentioning their current role and employer and a brief background about their work history. This doesn't have to be too lengthy – remember you have the rest of the statement to detail your skills, experience and competencies. Including a brief overview at the start of your statement can set it off nicely. This may looking something like:
I am writing to apply for the role of .... I currently work as a ... and have over two years' experience in ....
2. Highlight your key selling points
The next stage is to highlight your selling points. These are the skills, knowledge, experience and/or competencies that make you a suitable candidate for the role. Just like when you write a profile on a CV, use your judgment to decide what's worth highlighting and what can be left until later on in your statement. If there is one, use the person specification as a guide. You may want to highlight the competencies you consider to be the most essential for the role.
As you will see I have worked primarily in ... roles which has allowed me to develop excellent skills in X, Y and Z. My current position of ... has strengthened my expertise in .... and developed my knowledge in .....
Write a stand-out supporting statement
I've designed a bundle full of resources to help you plan and perfect your supporting statement. Now includes example supporting statement!
Buy on Etsy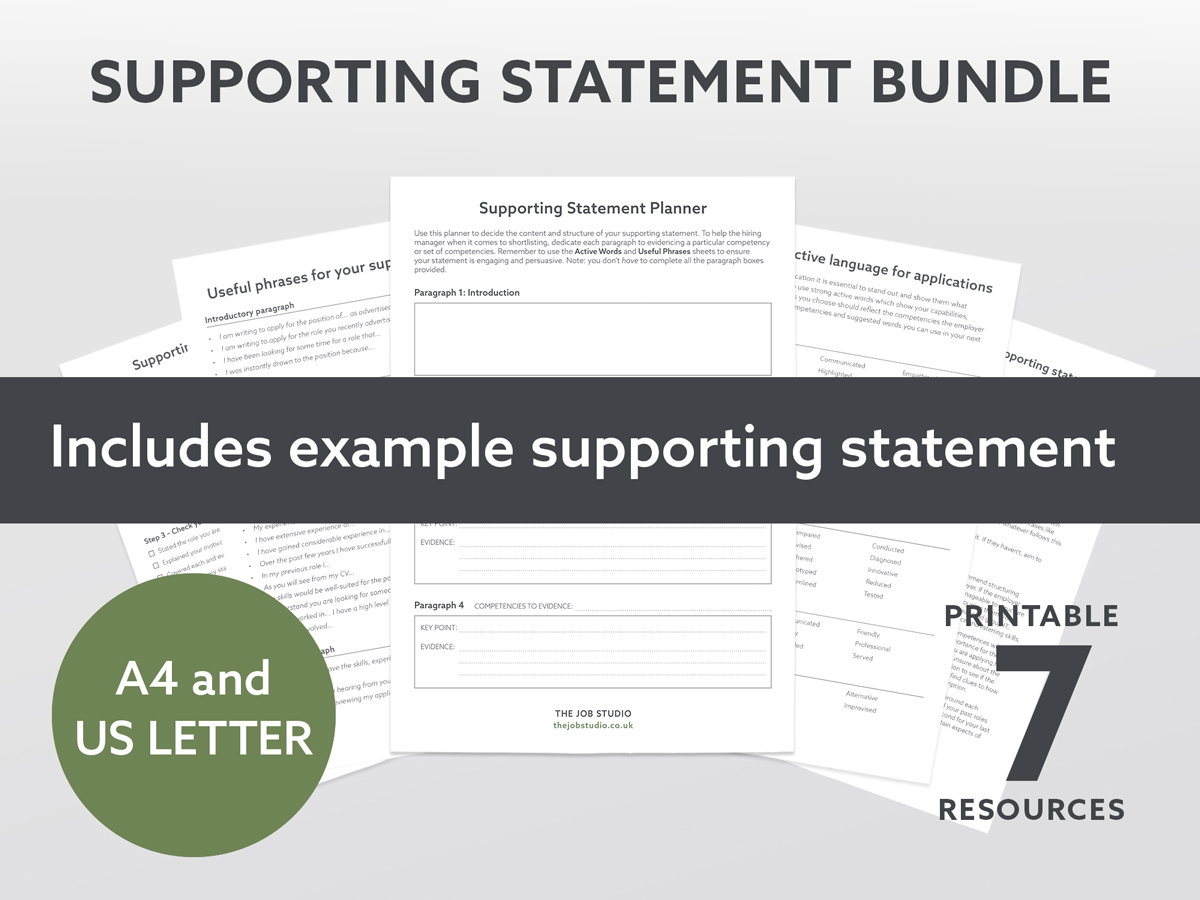 3. Express your interest in the role
After outlining your key selling points you then need to explain why you're applying for the role. Unless the company explicitly asks you to write about this, you should stick to a short paragraph for this section.
Here you need to express your interest in the role or organisation you're applying for. Identify a specific reason (or if you can reasons) why the role appeals to you. I'd suggest picking three reasons why you applied. It's a good idea to go beyond the job advert and description - employers often want to feel like you have chosen them above other companies. For advice on research read How to research an industry in 5 easy steps. Here's an example:
I was instantly drawn to the advertised role due to its focus on .... I have also been looking for a role which would offer more exposure to ... which is a further reason for my interest.
How to start a supporting statement: what to avoid
First impressions count so make sure your opening doesn't include:
A quote – unless you're absolutely confident it perfectly fits the point you want to make. Quotes often come across as gimmicky and almost always leave the recruiter wanting you to cut to the chase and tell them directly how you are a suitable candidate for the role.
Long-winded stories – recruiters don't have long to review applications so make their life easy and avoid long narratives. Yes, you may think it's interesting, but a recruiter only wants to know one thing - whether you have the required competencies for the job.
Spelling or grammar mistakes – you'd be amazed how many people make these in the opening paragraph so make sure you double and triple-check your whole document. If an employer spots a mistake in the first few lines of your statement they won't be too impressed, and chances are your application will go straight in the bin.
Flowery language – you don't need to use fancy language in order to impress a recruiter. Yes, you want to show them you can write well but you can do this without shoe-horning words into your statement that don't really fit.
What you don't have – I see people make this mistake all the time. They typically say something like 'Although I do not have experience in ...., I have worked as a ...' Under no circumstances should you draw attention to the fact that you don't have what you think an employer is looking for. Why emphasise this when you could just say 'I have experience in...' or 'My varied experience has strengthened my X and Z skills...'
So there you have it, a fail-safe way to start any supporting statement. If you'd like expert help with your statement take a look at my personal statement review service.